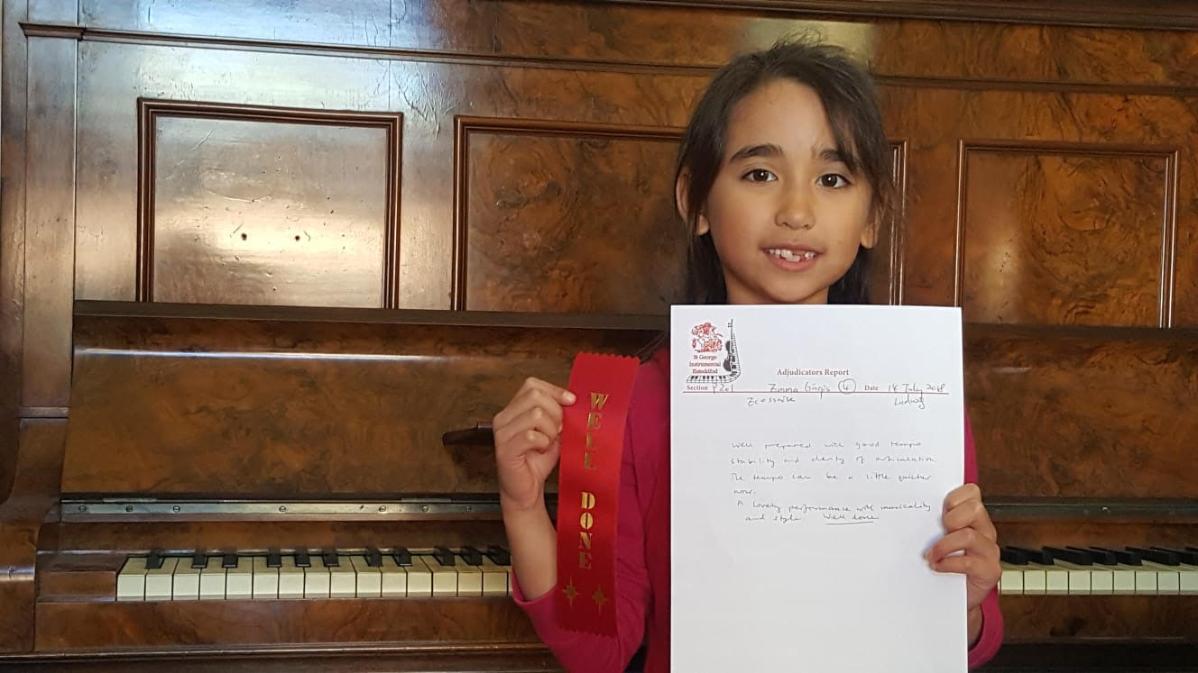 School success stories
"SUCCESS is no accident. It is hard work, perseverance, learning, studying, sacrifice and most of all, love of what you are doing." Pele
Lolita began taking private piano lessons with me from 2003, followed by another 10 years. She completed all AMEB examination grades, up to CMus (Certificate of Performance), achieving High Distinction for most of her grades. In 2013 Lolita completed HSC Music 2 and Music Extension examination, receiving a Band 6 and E4 for the final marks. Lolita was nominated and chosen to perform at the Opera House for ENCORE, described as "a program of outstanding performances and compositions by students from the HSC Music examinations". In 2014, Lolita was accepted to study piano at the Sydney Conservatorium of Music. She completed her BMus Studies and is currently doing her Honours.
As Lolita said about our years together: "Irina is teaching not only the skill of piano playing, but the art of piano playing. She taught discipline and was a mentor to me. I am a proud piano teacher now and I am using a pedagogical approach that draws on my experience in the classroom with Irina. It requires and encourages a passion for music and value discipline. Irina was always persistent about the hand position and posture - you must be aware of your hand position and how it will affect your overall ability to play. That is something that has stuck with me over the years, and I ensure that my students understand this well. The teacher-student relationship is so important - and I have learnt a lot of things about myself, not just as a musician, but as a person, in Irina's classroom. Thank you, Irina!"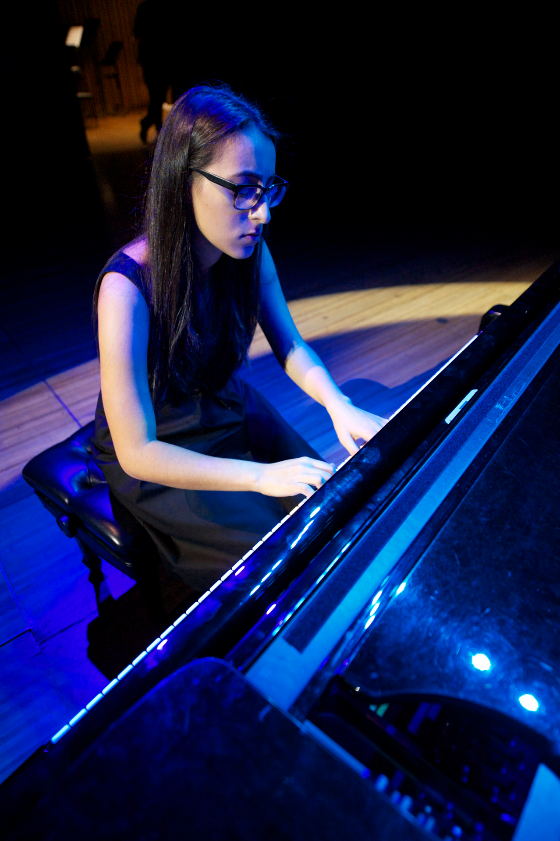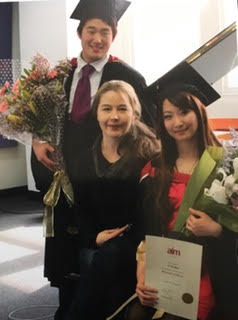 Andy Fung completed his Bachelor of Music: Performance Classical under my tutelage at AIM between 2006 and 2010. Since graduation Andy has become a successful entrepreneur as the Founder, Managing Director and Head Teacher of the Passion Music School. In Andy"s own words: "During his study with Ms Irina Klamka, I learned many skills to become a professional musician, pianist, music educator and lover of Music. In my teaching style, I apply my mentor's (Ms Klamka's) style of teaching. The approach Ms Klamka taught me was, 'simply follow the music and the music will play naturally.' This of course comes from studying the piece in a logical manner with firm technique and clarity in the musical ideas expressed! These skills were nurtured and refined by Ms Klamka"s clear teaching, experiences and philosophies of music."
Celina Moon earned a Bachelor of Music: Performance Classical under my tutelage at AIM between 2007 and 2010. After the graduation Celina launched her own piano teaching business in Chatswood named Celina Piano Studio. in Celina"s own words: "My students are expressing enjoyment in learning piano with me and I attribute this enjoyment to a teaching style inspired by my mentor, Ms Irina Klamka. The teaching style includes a strong emphasis on techniques for a strong foundation, an analytical style of approaching music for inducing greater natural expression, and detailed demonstration and professional performance of skills for her students to easily grasp and understand the concepts shown. Today, I am attributing my success to Ms Klamka"s dedicated teaching."
Alexander Neroutsos, here in the photo, is only 13 and has achieved AMusA with High Distinction! This year, 2018, he received his LMusA with High Distinction as well. Another amazing result!!!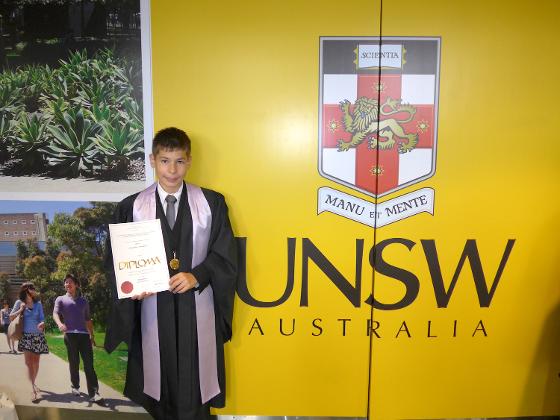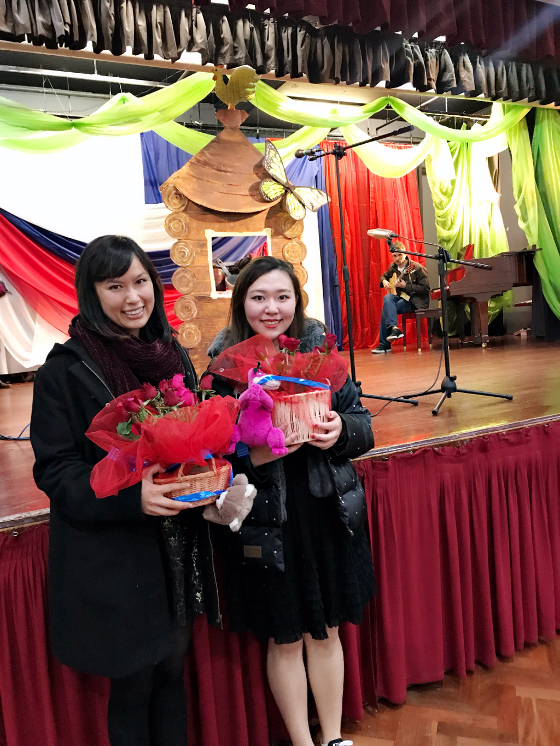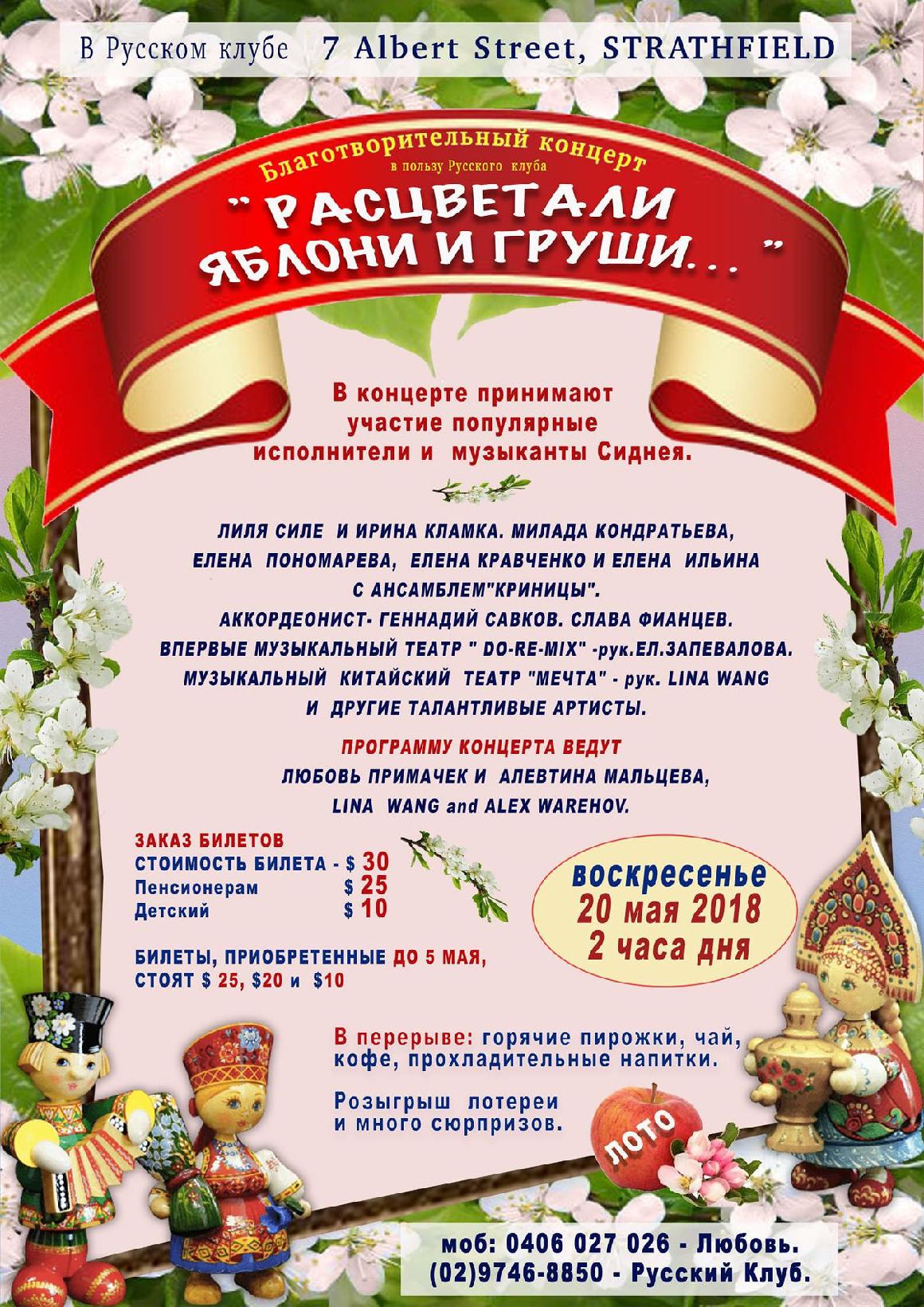 I feel privileged to receive the AMEB Award for the third time in a row, placed in the top 5 in 2015, 2016 and 2017 in the category of: Most Outstanding Private Teacher Preliminary to Licentiate - Written subjects.
One of the highlights of the annual Diploma Presentation Ceremony AMEB is the presentation of the AMEB awards for teaching excellence. To be eligible for these awards, a minimum of ten candidates must have been enrolled by the teacher, studio/music school or BOSTES-accredited school in any one particular category in an examination year. The result for these candidates are then calculated based on a formula determined by the Board, with the teacher gaining the highest aggregate score being awarded the AMEB trophy for that category. Often there are consistently strong teachers in each category who have not been awarded first place, but who are completely unaware of how close they are to winning an award in a particular year or many years in succession.
As written in the AMEB letter: "....we recognise and congratulate teachers, studios and schools that achieved the top result in each category. As you are among this elite group of talented educators, we would like to recognise your teaching achievements in 2017 with this Certificate of Distinction".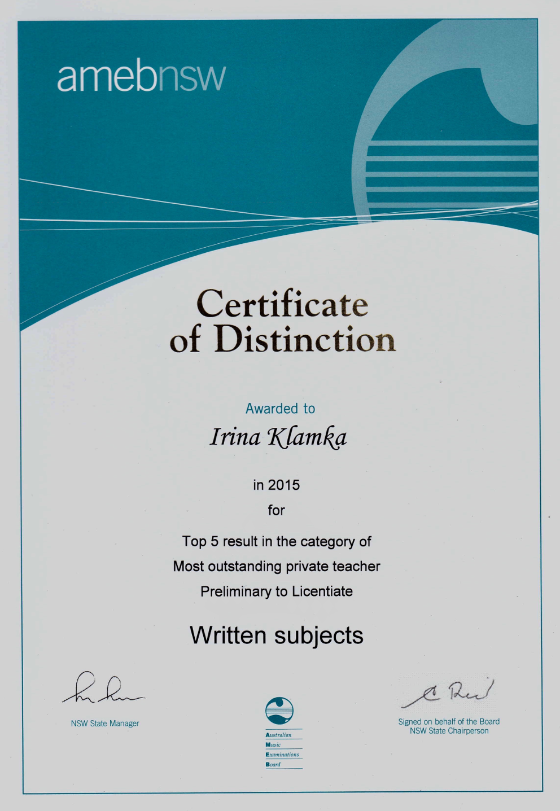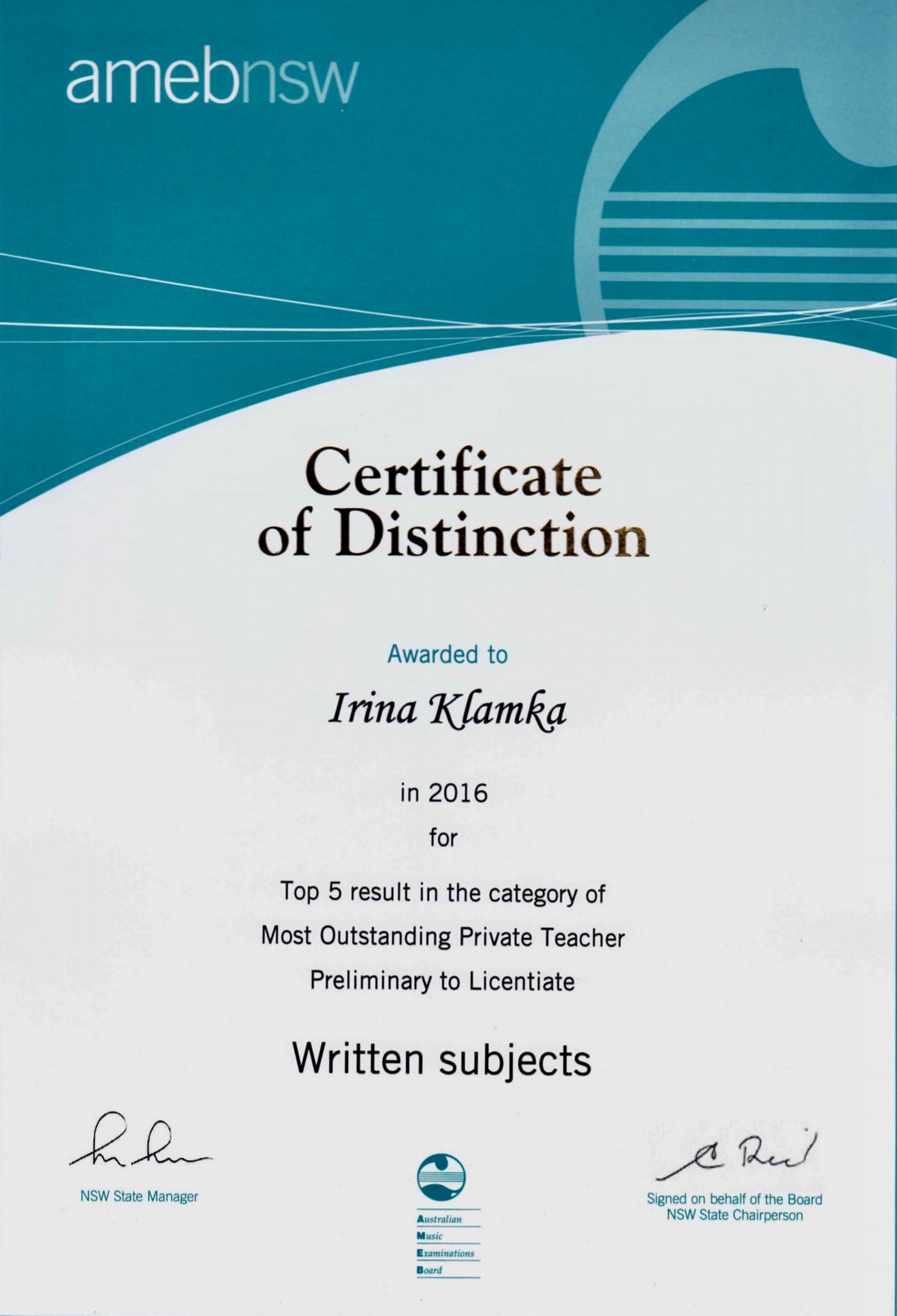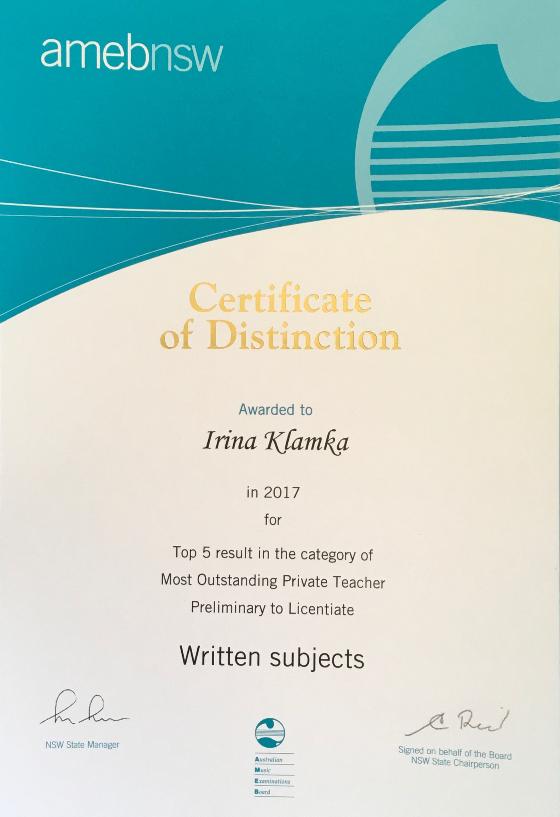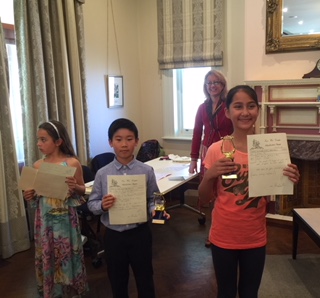 The Inner West Eisteddfod was founded in 1984. Its objective is to nurture and encourage young pupils in the performing arts, giving them a valuable opportunity to develop confidence and skills and to benefit from expert assessment.
Brandon participated for the first time at Inner West Eisteddfod, Burwood and conquered 2nd place in the Section AMEB Grade 4. Congratulations to successful debut!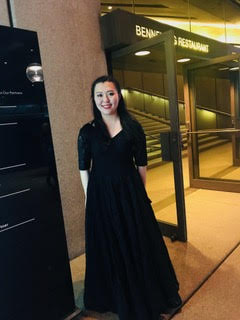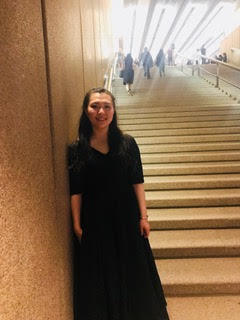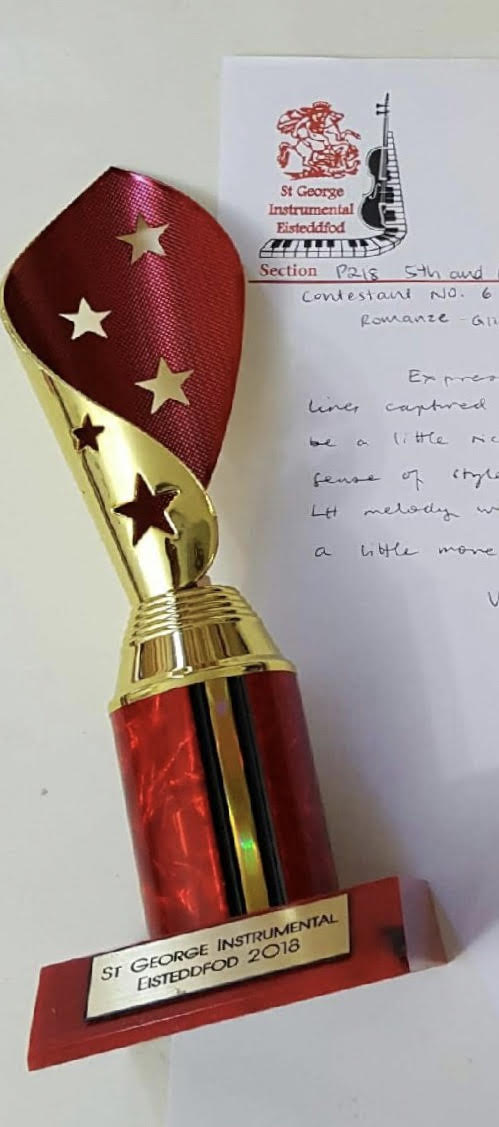 St George Instrumental Eisteddfod
St George Instrumental Eisteddfod had been fostering musical talent in the St George area since 1921. Almost a century of fostering and developing musical talents!!!
It aims to foster and develop new and existing talent and ensure future generations have the opportunity to compete against the best talent, at the highest level, and in a friendly and supportive way.
Alyssa and Emma Girgis participated in this wonderful event. Both girls performed on a high note! Alyssa achieved HC for the Section "10 years and younger, sonatina" and First Prize for Grade 5/6 with score of 94!
Congratulations to all the family!!!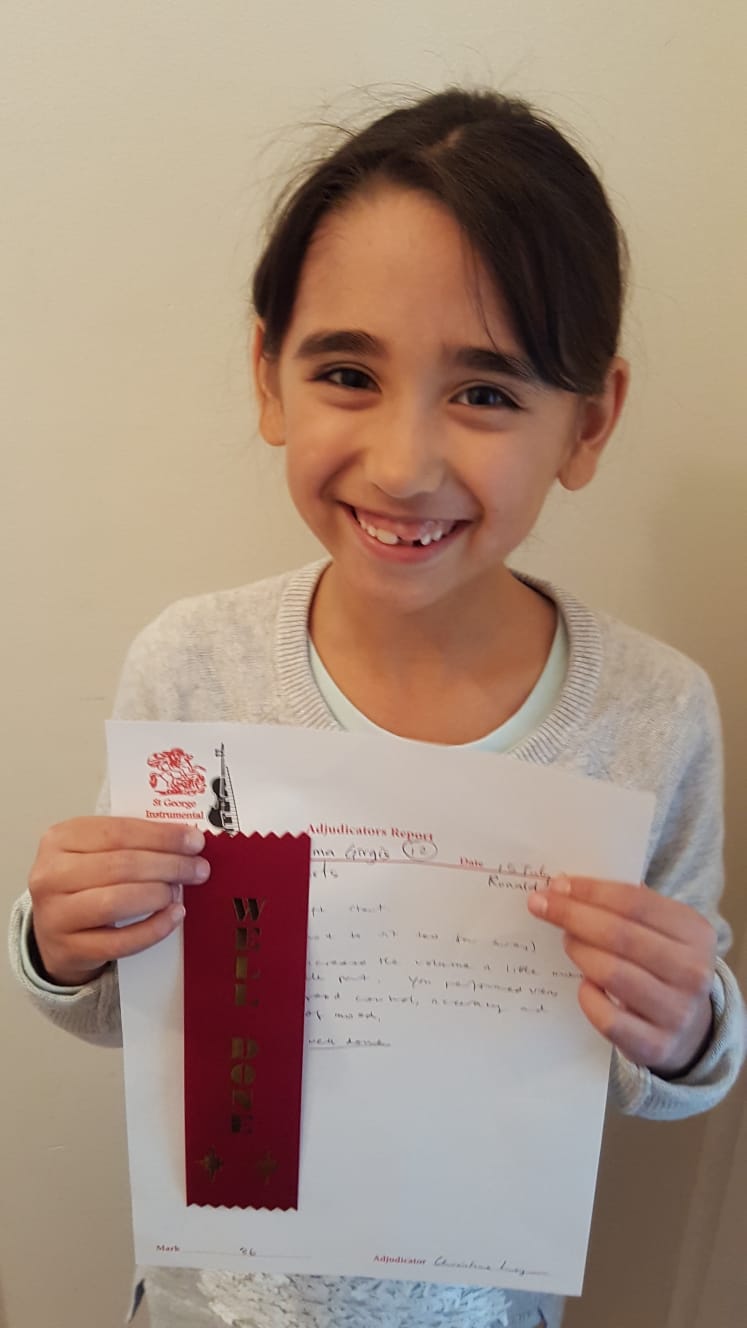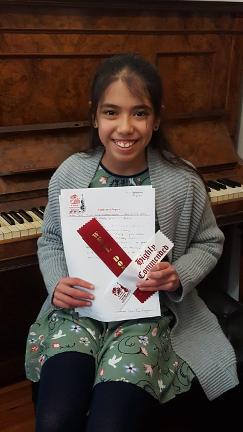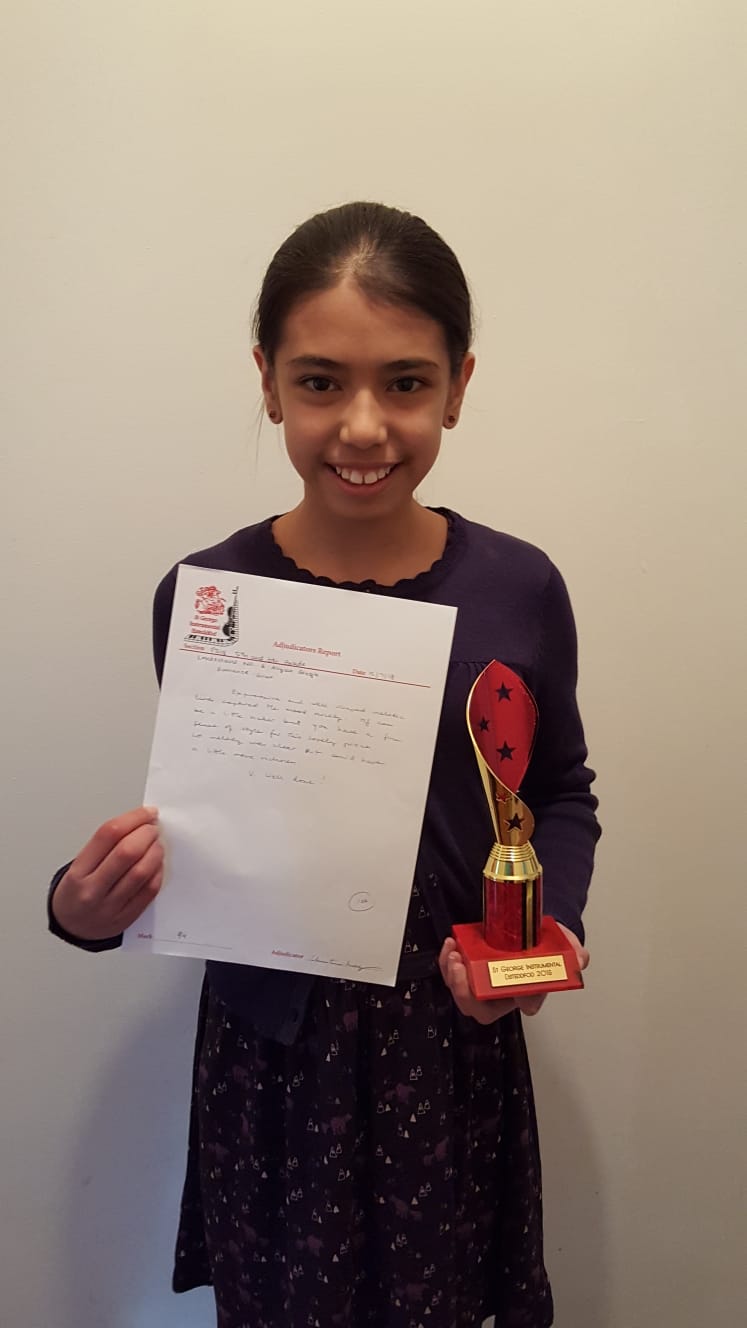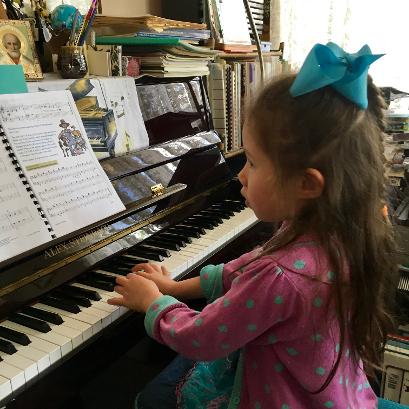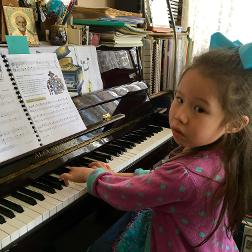 Bethany ...
Place more text here
© Copyright Central Music School